Priests on the Maidan crackdown: with Lyovochkin did not speak, and the questions necessary to put "the Eagle"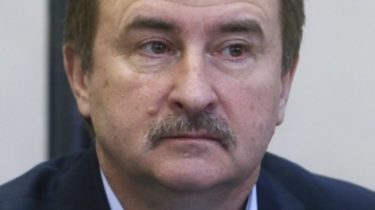 Priests on the Maidan crackdown: with Lyovochkin did not speak, and the questions necessary to put "the Eagle"
Alexander Popov© UNIAN
Then the leadership of the national security Council advised him to be ready to deliver the design of the Christmas tree.
Ex-head of KGGA Alexander Popov, who is accused of involvement in the dispersal Euromaidan student, said that he talked with the then head of the presidential Administration Sergei Lyovochkin neither before nor after the events in the center of Kiev.
He told about it in interview "Interfax-Ukraine".
See also: the Fault lies with "the then repressive government machine": Levochkin has denied allegations of Yanukovych
"If this attitude (to disperse Levochkin – ed.) exists, then me about him is unknown. First, I had no communication with Levochkin nor before, nor after the events on the Maidan, even over the phone. Frankly, these statements seem to me ridiculous," says Popov.
"It's simple: there is a "Berkut" – a special unit that carried out the orders exclusively from the interior Ministry. And good, that there should begin to ask questions," he said, adding that such an internal investigation at the interior Ministry was conducted.
"Even two: the first was signed by the Minister Zakharchenko, the second Avakov. Then there were the investigation of the Verkhovna Rada under the leadership of the Russian. In one of them the names of the priests or Lyovochkin did not" – said Popov.
According to his version, 29 November 2013, the participants of the Maidan announced the termination of the action, took the stage and announced the continuation of shares on December 1, what he learned from the news.
"The same day I received a call from the leadership of the national security Council (Secretary-which was then Andriy Klyuyev). I was recommended to be ready to deliver designs Christmas trees and Christmas paraphernalia in the night from 29 to 30 November. According to special services, as I explained, it was the only safe period, a minimum presence of people on the Maidan did not give reason for conflict. I gave appropriate orders. But what happened next still remains a mystery," – said Popov.
We will remind, earlier ex-President of Ukraine Viktor Yanukovych said that the former head of AP Sergey Levochkin probably had to do with the beating of students on the Euromaidan on 30 November 2013.
Comments
comments