The first comic books about the heroes of the ATO printed in the river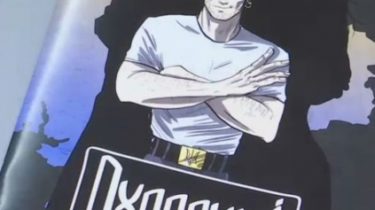 The first comic books about the heroes of the ATO printed in the river
The comic book was prepared six months.
"The guards of the country" is the first comic book of 10 stories about the struggle with the enemy heroes of the ATO, which was published in the Dnieper river, according to TSN.16.45.
Each character has a real prototype. The main character is copied from the battery commander of the 25th brigade. There is even a girl-protector of extraordinary possibilities.
The comic book was prepared six months. The idea was Leonid Krasnopolsky, to 2014, he lived in Donetsk. The man was captured by the separatists.
When managed to get the will settled in the river and then continues to help the soldiers. Part of the proceeds from the sale of the comic will be used to purchase the form and sights.
"The main objective of this comic is to introduce children and adolescents with the events that occur in the East of Ukraine, a little to feel and to understand what the honorable service of the soldiers, as it is interesting and how important it is for our country," says comic book writer Leonid Krasnopolsky.
Comments
comments