"Bitch non-Orthodox". Lutsenko's lawyer swore at Novinsky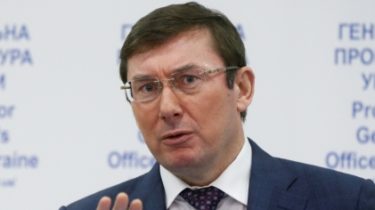 "Bitch non-Orthodox". Lutsenko's lawyer swore at Novinsky
© Reuters
A fight captured on video.
Prosecutor General Yury Lutsenko after the meeting of the procedural Committee of the Verkhovna Rada insulted the lawyer of the people's Deputy Vadim Novinsky – Oleg Tatariv.
"Tatariv – bitch non-Orthodox, Mentovskie bitch goner", he said.
Strong words, Lutsenko was caught on camera. Novinsky, in turn, said that "the attorney General allowed himself a rude and unacceptable language against my protector".
"We are now preparing lawsuits on protection of honor and dignity of my lawyer. If you do not achieve the truth in Ukraine, we go to the European courts", – quotes "Ukrainian truth" quote Novinsky.
See also: Parubiy thought up how faster to detain Novinsky
Skirmish between Lutsenko and Novinsky has arisen due to Tarasov. Lutsenko said that he could not speak at Committee on behalf of the MP, because it was one of the leaders of the interior Ministry.
As previously reported, December 6, the procedural Committee of the Verkhovna Rada adopted the decision to send in the hall of the Parliament performance of the GPU on the involvement of the people's Deputy Vadim Novinsky to the criminal case.
Previously, according to Prosecutor General Yury Lutsenko, the regulation Committee did not want to miss the view to the vote, demanding to disclose the case file. The "Samopomich" faction sabotaged the work, demanding a vote for the deprivation Novinsky immunity.
Vadim Novinsky is on the case of illegal detention of the assistant to the now deceased Metropolitan of the UOC-MP Vladimir Alexander drabinko. According to investigators, Novinsky was a co-organizer of abductions for the change of leadership of the Ukrainian Orthodox Church of the Moscow Patriarchate 2013.
Comments
comments