Onishchenko has published the first audio recording with compromising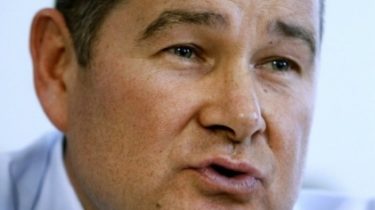 Onishchenko has published the first audio recording with compromising
© UNIAN
The scandal between Onishchenko and Poroshenko is gaining momentum.
MP-fugitive Oleksandr Onishchenko has published the first audio recording with the dirt.
It is reported by the Country.ia.
The publication notes that Onishchenko gave them part of their library. Namely, the recording of the conversation with the Deputy Oles Dovgy, who, according to Onishchenko, acted as a mediator in the negotiations between him and Poroshenko after the departure of the people's Deputy of Ukraine.
"For the first time as negotiator Oles came to me at a meeting in Italy. I asked, that he painted an estimate – how much money I paid for 2.5 years Poroshenko, how much I have and how can we reduce the budget. I calculated and got about $ 50 million that was owed to me Poroshenko. Dovgy said that all will report First and come back with a proposal," says Onishchenko.
It is reported that the second meeting was held in London and this time Onishchenko has recorded with the services of the British detectives, who organized the audio and video recording of the conversation.
"The essence of the conversation comes down to a counter offer: long on behalf of the authorities suggested that all the responsibility in a criminal case took on my mother. Plus I had to pay to the budget a large sum at the conclusion of a plea deal. However, according to the agreements, they had to release under house arrest of Valery Lean (lawyer Onishchenko)", – he said.
Read also: Poroshenko at the meeting of the faction "BPP" has commented on the scandalous statement of Onishchenko about compromising
We will remind, Onishchenko told the British newspaper The Independent as "stoked" Yatsenyuk and corruption surrounded by Poroshenko. In particular, the resignation of Arseniy Yatsenyuk from the post of Prime Minister of Ukraine was planned by President Petro Poroshenko. The task was to discredit him in the media, and the constant protests. Media antikamnia lasted 10 months and each month she spent $ 3 million. Corruption surrounded by Poroshenko declared a fugitive of the people's Deputy Oleksandr Onishchenko, the article says the British publication the Independent, says that to check the accuracy of the statements Onishchenko has failed.
Onishchenko also said that he gave the dirt on Poroshenko the US intelligence. Supposedly, during the meetings and recorded the conversations on a voice recorder built into a wristwatch.
The leader of Radical party Oleg Lyashko appealed to the NEB and the GPU with a request to check the dirt of people's Deputy, the fugitive Alexander Onishchenko, the President Petro Poroshenko. "I would like to know what alliances Tymoshenko and gas tycoon Onishchenko. I think the public wants to know what the relationship between President Poroshenko and gas tycoon Onishchenko how much Onishchenko brought Poroshenko the money he made from Poroshenko of money, who are in Parliament got the money, who paid for the vote, and who the perpetrators of this corruption," – said Lyashko.
Comments
comments