Released political prisoner from the "group." Afanasiev said about "negotiations Savchenko"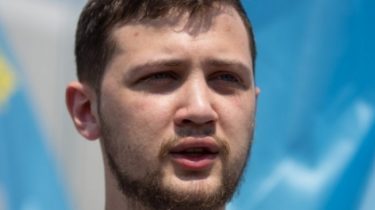 Released political prisoner from the "group." Afanasiev said about "negotiations Savchenko"
© UNIAN
The canadian Diaspora decided to block and ignore her arrival — he said.
Activist of the civil resistance to the Russian occupation of Crimea and a former political prisoner of the accused in the case of the so-called "terrorist groups." Gennady Afanasiev commented on a meeting Narada, a former captive of the Kremlin, Nadiya Savchenko with the leaders of the "LDNR".
"Without writing a personal message asking for their own comments relative to it. Whether it is necessary? Disgusting… As it is all unhealthy! Diaspora refuse to fight for political prisoners…" — posted by Afanasyev on his page in Facebook.
See also: Afanasiev & Yatsenko will be engaged in Ukrainian political prisoners in Russia
However, he added: "the Czech activists, for example, say: "If following such release, that she arrive on a tank!" Polish activists say: "why wouldn't she go through a polygraph, we believe. Don't want to reject the projects of the Kremlin and recruited by the FSB agents." The canadian Diaspora decided to block and ignore her arrival…"
Savchenko acknowledged that he had met with the leaders of the so-called "DNR" and "LNR"
TSN. 19:30
12 Dec, 21:54
Add to favourites
The result of the meeting was positive, although what was the deal with the terrorists, and not reported. On this visit knew neither the Security Service of the country nor the party "Batkivshchyna". There has already managed to declare that she is involved in a new political project with the party does not coordinate his actions.
Recall, 11 December the media reported on the secret talks of the people's Deputy of Ukraine Nadezhda Savchenko with the leaders of terrorist groups "DNR" and "LNR" in the capital of Belarus Minsk. She is a politician meeting with the militants refused to comment.
In turn, the main "Lnrovets" Igor Carpenter confirmed that he and the head of the "DNR" Alexander Zakharchenko met with people's Deputy Hope Savchenko, during which discussed the exchange of prisoners by the formula "all for all".
"It should be seen correctly, it is necessary to understand that this whole process takes place within the framework of the Minsk talks", — he said.
In the "Fatherland" , the negotiations of his Deputy with the militants called unacceptable.
Later Savchenko confirmed the talks with the leaders of the terrorists. She stated that she did not see "hell" Zakharchenko and Carpentry.
Comments
comments