Thousands of explosions and "Grad". The OSCE said about the situation near Debalcevo and Svetlodarsk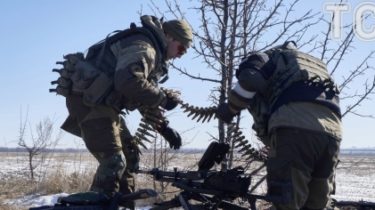 Thousands of explosions and "Grad". The OSCE said about the situation near Debalcevo and Svetlodarsk
Archival photo© Getty Images
Staff monitoring counted 12 shots from the system of volley fire during the night.
Representatives of the special monitoring mission of the OSCE noted the worsening situation in the Donbass, and averaged about 2.9 thousand explosions within December 18. Most cases of violation of ceasefire recorded near Debalcevo and Svetlodarsk.
This is stated in the report SMM OSCE.
"In the night from 16 to 17 December in the government-controlled (of Ukraine – ed.) Svetlodarsk (57км to the North-East of Donetsk) the observers heard explosions 50 from the outgoing artillery rounds (122mm), 15 explosions from the weekend rounds mortar (82mm), and 15 explosions from cannon shots output (73mm)", – stated in the message text.
Also, the text States that on 17 December, in the same place, the observers counted 21 an explosion of uncertain origin. The situation worsened on 18 December – the number of explosions has increased significantly.
"For six hours on December 18, observers heard explosions 700 input and output 680 of explosions from artillery shells (122mm)… 20 output of explosions from tank shells," – said in the report.
In the night from 17 to 18 December near debaltseve, OSCE spivrobitnyky counted 12 weekends of attacks from jet systems of volley fire BM-21 "Grad".
"December 18, observers heard explosions from 43 shots of the MLRS, and also 1900 the uncertain explosions", – stated in the report of the OSCE.
We will remind, yesterday, December 18, militants have waged a fierce battle with the military forces of the antiterrorist operation in the area of Svetlodarsk arc, in the Donetsk region. The clash continued for more than a day. Ukrainian military took the fight, threw the enemy forces and carried out a counterattack into the flank of the enemy.
According to official figures, killed at least five Ukrainian military, another six were injured, ten people were wounded or injured.
According to intelligence reports, the enemy's losses amounted to at least 25 people were killed and 30 wounded.
More about the situation near Svetlodarsk see the link →
Comments
comments