"Batkivshchyna" will block in Parliament the draft budget for 2017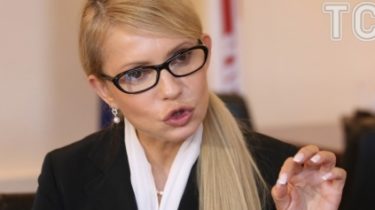 "Batkivshchyna" will block in Parliament the draft budget for 2017
© Getty Images
Tymoshenko said that the bill is based on corruption schemes.
The party "Batkivshchyna" will not vote for the bill on the state budget for 2017, will also encourage other members to it.
This was stated by the head of the faction Yulia Tymoshenko, UNIAN reports.
"The party "Fatherland" is by all means to prevent the adoption of the budget. We will vote against, and we urge all other MPs to vote against it," she said.
Read also: Parliament considers the budget bills. Online stream
According to Tymoshenko, this project is based on the bills that incorporated many corruption schemes. So, of the three bills the Chairman of the "Batkivshchyna" emphasized bill No. 5132 "On amendments to the Tax code regarding the balance of budget revenues".
About the bill, Tymoshenko said: "it Has a fancy name, but really is just terrible." She also stated that this preach "not in conformity with EU law".
According to Tymoshenko, the bill provides for the abolition of the preferential tax system for small and medium farmers", i.e. "achieve the farmers".
"While this bill increase taxes on diesel by 30%, which would increase the cost of fuel," — said Tymoshenko on the situation, pending farms.
She also added that the other two of the bill also worsen the situation in the economy.
As previously reported, today, December 20, the Verkhovna Rada is considering budget bills. The morning began with changes in the state budget 2017, as the evening will begin consideration of the second reading of the bill on the state budget for 2017. In addition, the deputies decided not to stop today's session, until you consider all the planned questions for today. That is, Ukraine could in the middle of the night to the main state budget for the next year.
Tymoshenko is lying about the law of special confiscation– Chornovol
Policy
8 Dec, 23:51
Add to favourites
Around act specefication is a lot of false calls, including from people's deputies. This was stated by the people's Deputy Tetiana Chornovol. In particular, people's Deputy from "popular front" was accused of lying by the leader of "Batkivshchyna".
Comments
comments