At the Metropolitan Obolon inadequate police shot the attacker, who threatened them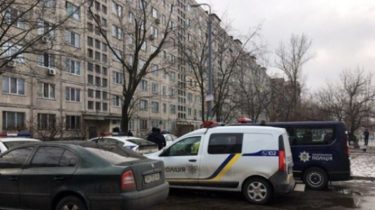 At the Metropolitan Obolon inadequate police shot the attacker, who threatened them
Kiev
Today, 14:37
1 of 2

Negotiations with the attacker
© State of National police in the Kiev region

1 of 2

Negotiations with the attacker
© State of National police in the Kiev region
Negotiations with the attacker
© State of National police in the Kiev region

Negotiations with the attacker
© State of National police in the Kiev region
Man barricaded in his own apartment.
Today, December 21, in the Obolon district of Kiev during an attempt to detain the attacker, the police used firearms and wounded him.
It is reported by the Department of communication of the police of Kiev.
The duty of the Obolon police Department received a report from a local resident that in the Elevator of high-rise buildings unknown pistol-whipped him in the head and fled, taking nothing. At the specified address, the patrol discovered a man similar to the suspect. He began to threaten militiamen.
See photo: In Kiev, a foreign car was hit by the police and during the chase, a shootout occurred and the accident
"Pre-installed: patrol noticed in the entrance of the house the man similar to the suspect. When they tried to detain him, the offender began to threaten the police. As a result, police were forced to use his firearm, and then wounded the malefactor", – is spoken in the message.
After that, the attacker has locked himself in his apartment and behaving inappropriately. Now between him and the police continue negotiations. To the scene arrived investigative team and members of the special forces.
As previously reported, in the Parking lot of a shopping center in Obolon district in Kiev, the attackers shot the man, took from it a purse with money and fled in a car.
Comments
comments