In Russia, the corporate employees of the mental hospital was completed with a breathtaking fight due to a broken bulb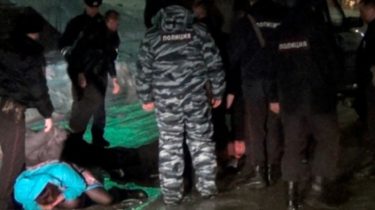 In Russia, the corporate employees of the mental hospital was completed with a breathtaking fight due to a broken bulb
© Bibinform
To calm the raging women arrived at least 15 patrol.
In the town of Apatity, Murmansk region, Russia new year party of the staff of the psychiatric hospital ended in a mass brawl with a group of four sisters, who celebrated a birthday in the same cafe.
About it reports local news Agency "Khiminform".
The conflict between the two companies has been brewing gradually. At first the sisters were unhappy with the songs, which put the staff of a mental hospital, then someone at someone the wrong look, and a scuffle broke out when one of the doctors punctured the balloon of the birthday girl.
It is noted that the fight involved mostly women. Men from the staff of the mental hospital tried to separate them, but during the fight they broke their noses. Eventually the sisters won and forced their opponents to flee.
To calm the raging women, the scene came three PPP outfit, two outfit traffic police and a squad of Regardie a total of at least 15 patrol. They managed this not once, but in the end it turned out that one of the sisters is wanted for theft.
Comments
comments