The Supervisory Board of "PrivatBank" has entered the "secret" of international experts – danyluk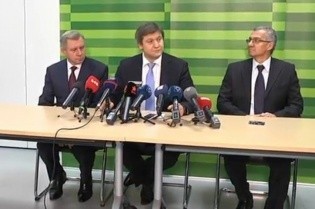 The Supervisory Board of "PrivatBank" has entered the "secret" of international experts – danyluk
© Privat
The Cabinet nationalized "PrivatBank" on December 18 and December 21, it fully became a state.
Today, December 22, in the river to his duties started a new Chairman of the Board for the state of "PrivatBank" Oleksandr Shlapak. His team was presented by the Finance Minister Alexander danyluk. After being briefed.
Danyluk said that already formed a new Board and the Supervisory Board of the nationalized "PrivatBank". In particular, the Supervisory Board included two representatives of the state, the rest – representatives of international financial organizations and independent experts, specialists in the banking sector. About it Danilyuk told, but did not name names. The intrigue will last until the evening – then the Minister will return to Kiev and already in the capital will provide members of the Supervisory Board.
See also: Shlapak said, when the lift all restrictions in the "PrivatBank"
We will remind, on the nationalization of "PrivatBank" became known late on Sunday evening, December 18. Wednesday, December 21, the financial institution officially became a state property. The Ministry of Finance bought "PrivatBank" Deposit guarantee Fund of natural persons for a symbolic one hryvnia.
The transition period lasted for 72 hours. Monday, December 19, the head of the NBU Valeria Gontareva said that "Privat" is classified as insolvent. According to her, the Bank's capital deficit was 116 billion UAH, and 97% of the corporate loan portfolio was distributed to companies related to shareholders. This "hole", the state plans to close the bond issue Treasury bonds. The first tranche of securities of 43 billion UAH will be released before the end of the year.
Comments
comments