In 2016 launched the international standards of privatization – report of the state property Fund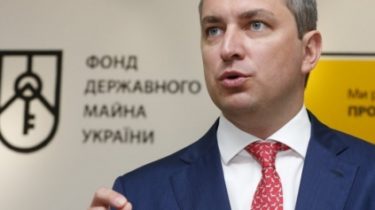 In 2016 launched the international standards of privatization – report of the state property Fund
© UNIAN
In 2016, significantly intensified preparation of objects for privatization.
Such objects prepared 295, which is the highest figure for the last 6 years. These data are published in the report of the state property Fund's results of operations in 2016.
In the report, the SPF stated a significant progress in the launch of the international standards of privatization in Ukraine by the end of 2016.
In particular, potential investors have the ability to pre-audit of objects of privatization, international arbitration, by mutual consent, may bring a personal Advisor, to obtain a Bank guarantee or cash Deposit for participation in auction, and also to use the online services portal privatization.gov.ua where is placed the information about the readiness of objects for privatization. In addition, the state property Fund has provided permission for participation in the privatization of state companies-to non-residents, and forbade participation in privatization investors from offshore zones, countries from the FATF list of countries aggressors.
Also in the report, the Agency lists the measures that were implemented to start a transparent process of privatization in the country – the emergence of the possibility of selling items in a single click on privatization.gov.ua (70 objects may be sold at the same time), the launch of the call center to advise on the privatization, the launch of selling items on e-auction with the involvement of 16 electronic exchanges-partners, as well as the first conference on privatization with the participation of 100 participants from 12 countries.
In addition, the FGI report set out proposals to accelerate transparent privatization in 2017. In particular, the Verkhovna Rada should support the new amendments to the Law on privatization of state property, to support the draft Law No. 1567 on the reduction of the list of objects prohibited for privatization and draft Law No. 4493 "On the electricity market of Ukraine". In turn, the Cabinet must support the draft resolution on the facilitation of the transfer of business of the Fund for privatization.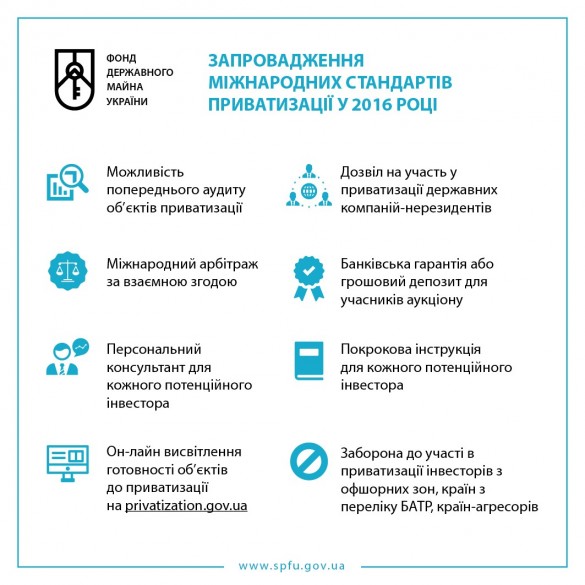 Comments
comments