Speech Ponomarev, a separate pavilion and a 3D show. The media learned the value of corporate Kiev DFS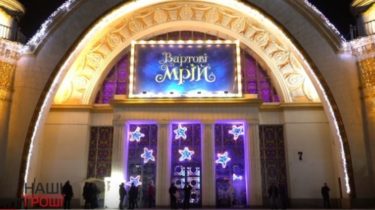 Speech Ponomarev, a separate pavilion and a 3D show. The media learned the value of corporate Kiev DFS
Money
Today, 10:18
1 of 5

© bihus.info

1 of 5

© bihus.info

1 of 5

© bihus.info

1 of 5

© bihus.info

1 of 5

© bihus.info
© bihus.info

© bihus.info

© bihus.info

© bihus.info

© bihus.info
Celebrated fiscaliste on the territory of the National complex "Expocentre".
About one thousand employees of the State fiscal service of Kyiv held a corporate event in a separate pavilion on the VDNH territory cost less than 1 000 000 UAH.
This was reported in the investigation of the program "Nashi Groshi s Denis Bhusan".
See also: "BPP" told, as was done on the "motivational" corporate with Poroshenko – media
The capital of the SFS had a separate pavilion №7 on the territory of the national complex, the entrance to which is allowed only on the list. Rent this pavilion is about 50 thousand hryvnia per day, 25 thousand hryvnias of additional rental for the time required for the decor of the room.
Reporters learned that the tax authorities have arranged separate special edition of the famous new year's 3D show "Vertov Mriy". The cost of tickets to the event – from 200 to 2000 hryvnia per visitor during the Christmas season, and 200-1000 UAH from January 6. The media used to calculate the average cost of a ticket to five hundred hryvnia.
In addition, for the fiscal sang folk artist of Ukraine Alexander Ponomarev. His performance at a corporate event to show the participants of the market estimated at about 6-7 thousand dollars.
Power is supplied to forces catering: the minimum order for such services from 150 UAH per person. So the meal was worth at least 150 thousand hryvnia.
Journalists have estimated that the total project cost is about one million, this number they confirmed the sources in the SFS. According to officers, about 10% of the cost covered by the visitors, the rest of the trade Union bodies of DFS.
Comments
comments