On the front under the plant gave a concert "pianist of Maidan"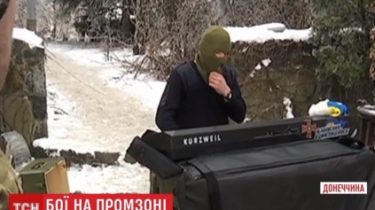 On the front under the plant gave a concert "pianist of Maidan"
Man wants that the military will free his home from invaders.
To the front the Town came the famous "the pianist of Maidan". The man decided to give a concert on the front lines, as once the barricades between "Berkut" and protesters, according to a story TSN.19:30.
A makeshift stage made of the attributes of war: boxes of ammunition. The musician was known in Balaclava, because of his amazing way, has become one of the most striking symbols of the Maidan and will be long remembered. "Just one tool and balaclavas – associative from the Maidan. These frames whole country, the whole world was watching," says APU fighter with the call sign "Ark".
Avdiivka zone the enemy shelling with heavy machine guns, cannons, infantry fighting vehicles and mortars
TSN. 19:30
Yesterday, 22:23
Add to favourites
While the country's attention was riveted on the arc Svetlodarsk, fighting continued across the front line. To maintain the morale of soldiers in Avdeevka came pianist from Maidan. The man in the Balaclava in the cold of 2014 played on the broken piano, sitting back against the "Berkut".
But the speech, which shook the hearts of millions, the pianist is now not much to say. "The war has blocked all. Maidan ended. This is the kind of advanced – easier to say where I was, perhaps," says the musician. For the defenders of the Town he specifically played the newly written song "Winter", and the music dedicated to those who died under Ilovaiskaya sister cities. Military this helped at least a few moments to mentally escape from the realities of war and to touch its beauty and elegance.
The pianist himself admitted that he wanted to come back home, but he is now under the control of the invaders. Therefore, after war wounds, Bogdan fighting is not the small arms, and musical instrument.
The TSN reporter Eugene Zvecanska
Comments
comments