The court rejected the recusal on the case of Yanukovych of treason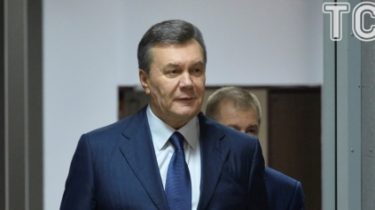 The court rejected the recusal on the case of Yanukovych of treason
© Reuters
According to the court, the protection of the fugitive is not brought substantial grounds for recusal.
The Pechersky district court of Kiev refused satisfaction of the statement for the protection of Viktor Yanukovych concerning the removal of the investigating judge Christina Tarasyuk, which considers the criminal proceedings concerning conviction in absentia deprived the title of President of Ukraine for treason.
The corresponding decree was announced at the hearing, judge Irina Litvinova, writes UNIAN.
As noted in the court's decision, the request can not be satisfied due to the fact that lawyers Yanukovych has failed to provide sufficient fundamental basis for disqualification of a judge Tarasyuk.
In turn, the lawyer of fugitive Vitaly Serdyuk called the actions illegal and the court having signs of a crime, then called the police to make the statement, reported by TV channel "112 Ukraine".
"The court ruling is criminal, because Yanukovych this definition deprived of the opportunity to give evidence to the court in the case of treason… These actions of the court, in my opinion, and deep conviction, fall under the signs of articles 374 and 375 (violation of personal rights to protection and to an unjust decision). Respectively, were caused by police", – said the lawyer.
Note that Serdyuk had announced the judge after refusing to videodrome Yanukovych, explaining that, in his opinion, the decision of the Pechersk court slows down the proceedings.
Recall that on 14 December the Pechersky regional court of Kiev granted permission for the detention of ex-President Viktor Yanukovych and his delivery in court. Thus, the court satisfied the request of the military Prosecutor Krivenko on permission to detention of Yanukovych, "with the purpose of his drive to participate in the consideration of the petition for application of a preventive measure in the form of detention".
On November 28 Yuriy Lutsenko to Svyatoshynsky district court of Kyiv announced that Viktor Yanukovych declared suspect in treason – the content of the suspicion is declared orally, namely, the notice was sent to all known addresses of the former President. On the same day after reading this suspicions the Military Prosecutor presented his lawyer Igor Fedorenko present in court.
Comments
comments