Volunteers collected field library to the front of the ATO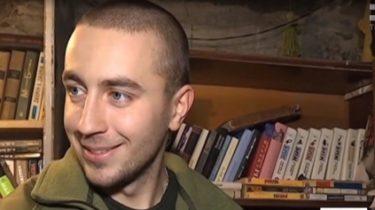 Volunteers collected field library to the front of the ATO
Books are brought to the defenders of the Town.
On the frontline near the Town with the onset of the truce reduced the number of militant attacks on positions of the APU, so the warriors got a little more free time. Provocation of the enemy continued, however, the constant hours of fighting anymore, says the story TSN.16:45.
Separatists continue from time to time to shoot from grenade launchers, and quite precisely, because the conflicting parties are sometimes separated by only 50-70 meters. During the formal regime of silence was seriously wounded one of the defenders of the industrial zone. "We talked to him constantly, I talked to him, he said. The fellowship gave me hope that he has more hope for life. Pray for him," said one of the soldiers.
The enemy has reduced the intensity of the shelling in Avdiivka area of the industrial zone
TSN. 16:45
Today, 17:59
Add to favourites
Defenders of Avdiivka industrial area say that the enemy attacks on their position after Christmas according to the Western rite have decreased slightly, but they're as thorough as they were. So in a quiet moment, the soldiers relax with a book in hand or with weapons.
Without losing vigilance, the military also is trying to diversify its free from direct military action. In particular, is decorated with a frontal area of the Ukrainian flag, have some volunteers brought Christmas candy, listening to music, reading books, because the front brought a real soldier's library. Fighters have the works of Arthur Conan Doyle, a biographical and autobiographical works, historical novels, science fiction, scientific books on the Ukrainian language. The military recognizes that they can find artwork to suit every taste.
The literature gathered volunteers: one of the bloggers invited friends to donate for this book, and review the offer received is huge. The author says that the printed word will help the military at least occasionally break away thoughts from the harsh everyday life of war and travel away from the front. That's why books about war in the library – at least. Yes, and such a daily reality of the soldiers and does not pull. "And so the war is enough," they admit.
See also: the Defenders of the Town began firing explosive bullets
On the eve of the same under the plant a concert for the soldiers he gave the famous "pianist of Maidan." A makeshift stage made of the attributes of war: boxes of ammunition. The musician was known in Balaclava, because of his amazing way, has become one of the most striking symbols of the Maidan and will be long remembered.
The TSN reporter Eugene Zvecanska
Comments
comments