Kyiv city Council has accepted for consideration the petition for the demolition of the facade of the Theatre on Podol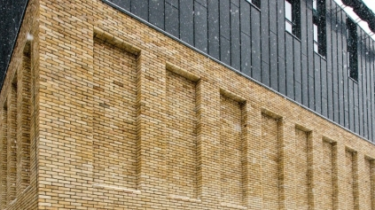 Kyiv city Council has accepted for consideration the petition for the demolition of the facade of the Theatre on Podol
© Roshen
E-petition got more than 10 thousand votes.
The city Council will consider an e-petition about the demolition of the black facade of the Theatre on Podil, which has caused a lot of criticism in Kiev. This is stated on the website of the city Council.
"Accepted for consideration the petition for the demolition of the new facade of the theater on Andreevsky descent", – stated in the message.
It is noted that the petition "Restore the historical appearance of St. Andrew's descent, which is the common heritage of the Ukrainian people. To carry the new facade of the theater, and the obligation to return the historical appearance of the house" has gained more than 10 thousand votes.
Mayor Vitaly Klitschko has instructed the standing Committee of Kyiv city Council on issues of urban planning, architecture and land use, but also for culture, tourism and information policy of to consider the e-petition in the prescribed manner.
Recall, November 29, inaugurated the facade of the Theater on Podol, the appearance of which angered Kiev. The opening of the theater planned for may 2017. The chief architect of the capital was assured that the building will not be commissioned until it will not pass the city planning Commission. At the same time, the Director of the theater in front of the building was praised, and said that it has already made some adjustments to the project.
The theatre on Podol became a hero of social networks
Snidanok 1+1
November 30, 11:26
Add to favourites
During the day, the photo of the new building of the Theatre on Podol circled Facebook. Some call it a bunker and sarcophagus, the other – genius of modern architecture. Yesterday with the facade removed the tape. What it saw Kiev? We look together.
Comments
comments