Parubiy announced the existence of a scenario to destabilize the situation in the Parliament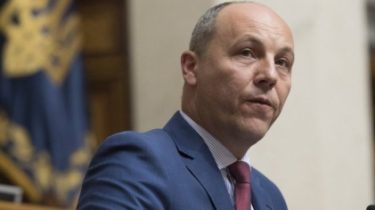 Parubiy announced the existence of a scenario to destabilize the situation in the Parliament
Andriy Parubiy© UNIAN
The head of BP says that the people's representatives felt the attack on the Parliament.
The head of the Verkhovna Rada Andrei Parubiy announced the existence of the script of destabilization of work of the Parliament.
This reports the press service of the Parliament.
During the greeting of the staff with holidays, the speaker stressed that the crisis in the state, the authors of this plan are going to organize through the destabilization of the situation in Parliament.
See also: SBU has named the date of commencement of large-scale destabilization by the Kremlin of Ukraine
"We felt the attack on the Ukrainian Parliament", – said Parubiy.
In his opinion, this year was a turning point and a key for the Parliament.
"The outgoing year was very difficult year for our state as the recent years. But this was largely a turning point and key to the Verkhovna Rada. We, the Parliament of the warring powers, and the war being waged against us is not only at the front where our guys protect the peace and tranquility of our country. I am convinced that we must look to them and working to support the soldiers… currently, we also demonstrate the ability to win, including at their workplaces with their work, as our soldiers on the frontline," – said the head of the Parliament.
Parubiy reminded that this year the Parliament adopted in General laws 224.
Earlier it was reported that the security Service of Ukraine has developed the plan of counteraction of Russia to destabilize the situation in Ukraine. The power Department interacts with the police, other law enforcement agencies, courts and prosecutors.
Comments
comments