Russia launched a cyberwar against Ukraine – Poroshenko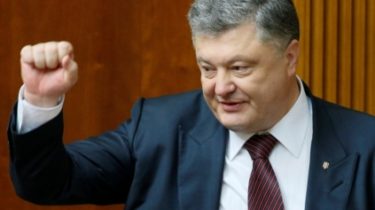 Russia launched a cyberwar against Ukraine – Poroshenko
© Reuters
According to the President, Russia throws the Euro-Atlantic community global challenge.
In the past two months, informresurs of public authorities of Ukraine there were about 6,5 thousand cyber attacks, the trail leads to Russia.
This was during the NSDC meeting, said the President of Ukraine Petro Poroshenko.
Hacker attacks, he said, and touched objects five offices and 31 government information resource.
Poroshenko said that as a result of a cyber attack December 6, were withdrawn from the system network of the State Treasury service and the Ministry of Finance, which led to disruption of administrators and recipients of budgetary funds. The accident occurred in the system, which usually is about 150 thousand electronic transactions per day.
See also: the same Russian hackers hacked into the servers of US and led the aggression against Ukraine – WSJ
"Cybersecurity issues are the main challenges today and during the NATO summits, and during our Commission. Created a special trust Fund. Therefore, the imposition of today's meeting of the security Council of the issue of cybersecurity is absolutely urgent," said the President, noting that threats the threats relate not only to the ministries and cited the example of interference in the work of the website of "Ukrzaliznytsya".
He added that the investigation of a number of incidents indicates the involvement directly or indirectly of the security services of Russia, which "unleashed a cyber war against our country". The President also said that such aggressive actions in cyberspace Russia is against other countries, in particular with the same problem faced the United States, and the Head of German intelligence said about plans by Russian hackers may affect the outcome of elections in Germany, the Swedish security services have publicly acknowledged Russia as the main source of cyber attacks on this Scandinavian country.
"We are dealing with global security challenge, which Russia throws the entire Euro-Atlantic community", – said Poroshenko.
In addition, he said about the possibility of terrorist attacks and the sabotage of important facilities.
"Today is quite likely remain the terrorist acts and sabotage on critical infrastructure. Well, we have built a professional security service, and the Service knows how to prevent these threats. But we need inter-Agency cooperation", – he concluded.
Recall, 6 December, unknown attackers broke into the website of the State Treasury service. Did not respond to queries and the website of the Ministry of Finance. Due to a hacker attack on the organs of the Ministry of Finance, the state Treasury had problems in fully implementing payments. The Ministry claimed that the attack was carried out by the professionals.
13 December attack targeted the website of the Ministry of defense of Ukraine. NSDC Secretary Oleksandr Turchynov said that hacker attacks on websites of the Ukrainian governmentthat occurred in the recent past, were coordinated from Russia.
Comments
comments