"Putin wasn't inside": Charlie Hebdo published cartoons of the fall of the Russian Tu-154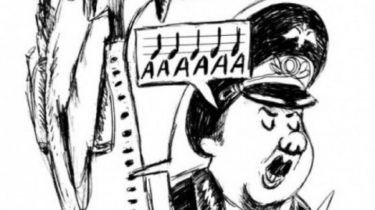 "Putin wasn't inside": Charlie Hebdo published cartoons of the fall of the Russian Tu-154
Curiosities
Today, 00:03
1 of 2

© Charlie Hebdo

1 of 2

© Charlie Hebdo
© Charlie Hebdo

© Charlie Hebdo
In Russia, the drawings called extremism.
The famous French satirical weekly Charlie Hebdo published cartoons of the plane crash Tu-154 Russian defense Ministry.
On one picture shows a plane crashes and on Board entertainers drawl singing the sound "a". The image is accompanied by the caption: "the Repertoire of the choirs of the red army is expanding."
The second cartoon also painted the airplane, but signed for the Russian President: "the Bad news… Putin wasn't inside".
Tu-154 likely crashed due to pilot error
TSN. 19:30
Yesterday, 20:07
Such findings to the experts and investigators after deciphering a part of the records found before the main black box. In the conversation of the pilots is heard as one of them exclaims the word "flaps", and then a cry of "fall". In the operational headquarters of note, the speed of the liner was sufficient for the climb. The plane was falling nose up.
Add to favourites
Comments
comments