Administrative boom: the Ukrainians stand in long queue for closure FOP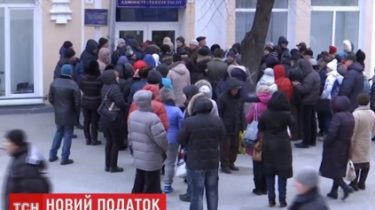 Administrative boom: the Ukrainians stand in long queue for closure FOP
People are asking the government to extend the time to avoid penalties.
Entrepreneurs, who for various reasons ceased to do business, now stand in long queues in the centres of administrative services to officially close my case. They have until the New year, because of changes in the laws require them to pay a fixed tax in 704 of the hryvnia even in the absence of income, according to a story TSN.19:30.
Only the day of the territorial centers in Kiev served with such questions almost a thousand people. Are planning to work even on 31 December – before lunch. Officials mobilized all available resources and even created mobile groups, which meet with entrepreneurs outside of the offices. In Zhytomyr, the same people are Queuing at the departments of registrations long before their discovery. Someone stands behind all day and has no time at the reception.
Authorities say restoring order in registration of individuals-entrepreneurs, because these "empty" PE needs to be closed, a working flat tax is not so terrible. Another opinion is shared by the businessmen themselves – they complain about the increase in payments with the minimum wage. Some of those who donate in these days of documents do not mind and would leave the so-called "sleeping FLP" – not to pay taxes, but the opportunity to start a business. However, those who support the new law argue that the mandatory monthly payment is really the best way to bring order to a small business. However, even those entrepreneurs who agree with the arguments of the state, still asking the government to extend to accept their applications after the New year, because of the queue which delay the process – it's not their fault.
The correspondent TSN Alexander Shilko
Private entrepreneurs which have ceased to do business, create a queue for the official closing of the case
TSN. 19:30
Yesterday, 21:38
Add to favourites
They once signed up as individuals, and entrepreneurs. This gave them the right to engage in a variety of small business. If it was not, then the taxes are not paid, but with the new year, even those entrepreneurs who do business did not go, still have to pay 704 USD per month. So many of us decided to say goodbye to the title of entrepreneur.
Comments
comments