Putin only understands force. McCain commented on the possible "Kissinger plan"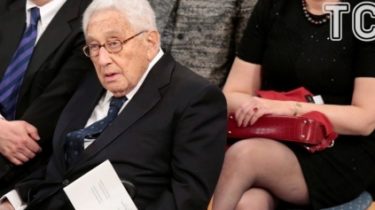 Putin only understands force. McCain commented on the possible "Kissinger plan"
Henry Kissinger© Reuters
Media spread information as if Kissinger proposes the lifting of sanctions with Russia.
The U.S. Congress will not approve any of the action, which will harm the freedom and independence of Ukraine or the Baltic States.
This was stated by us Senator John McCain, in an interview with TSN, answering the question whether the former Secretary of state Henry Kissinger as an intermediary between Moscow and the United States. Earlier media reported that he had been a rapprochement and a lifting of sanctions in exchange for the withdrawal of Russian troops from the Donbass.
Read also: Russia has a very weak economy, and the United States could weaken it even more – McCain
"I do not believe that we will support any agreement that does not guarantee full independence of Ukraine or any other country in the region. We have learned the lessons of the 30-ies of the last century, what means: to enter into agreements with the dictator. The U.S. Congress would not approve any action that will harm the freedom and independence of Ukraine or the Baltic States. We deal aimed at ending the conflict. However, I'm afraid my experience with Vladimir Putin testifies the only thing he understands is power , which is why we need to strengthen the defense of Ukraine and the Baltic States and to support them. "Peace through force", as once said by Reagan," said McCain.
John McCain gave an exclusive interview to TSN
TSN. 19:30
Today, 20:15
Add to favourites
Senator from the Republican party – one of the most consistent supporters of Ukraine. He was in favour of supplying official Kiev with arms and the tightening of sanctions against Russia. New year's eve John McCain with a group of senators was in Kiev and gave an exclusive interview to TSN about how the Republicans will restrain trump from friendship with Putin and what to expect from the future of Ukraine in the White house.
Comments
comments