In Ukraine earned the "green" tariff for solar energy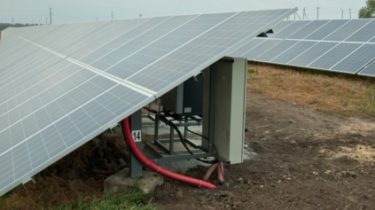 In Ukraine earned the "green" tariff for solar energy
© UNIAN
Electricity produced by solar power plants will be cheaper.
With the onset of 2017 in Ukraine on a permanent basis earned "green" tariff for electricity, which is produced by solar power capacity more than 10 MW. Earlier corresponding adjustment was acting as a temporary rate.
Produced "green" electricity is cheaper in 1.8 times. This tariff will be effective officially and indefinitely.
As it became known in the end of last year, two Chinese companies plan to build solar power plant in the exclusion zone of the Chernobyl NPP. Work will begin in 2017.
For the first time in the history of the whole island was entirely on solar energy
TSN. Wounds
November 25, 2016, 09:08
Add to favourites
The experiment was accepted by the inhabitants of Tau, which in the Pacific ocean. All costs were assumed by the company Tesla has installed over 5000 solar panels. To the battery was charged, just seven hours of cloudless weather. The energy produced is enough for three days of living without the sun.
Comments
comments