Fighters of anti-terrorist operation occupied an important height on the arc Svetlodarsk: this will reduce the fire fighters – Poltorak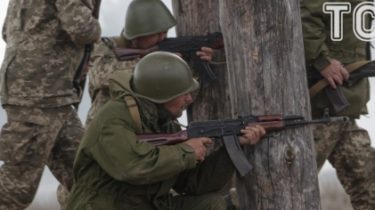 Fighters of anti-terrorist operation occupied an important height on the arc Svetlodarsk: this will reduce the fire fighters – Poltorak
© Getty Images
He also noted that the army thus not violated the Minsk agreement.
ATO forces during a counterattack in the area of Svetlodarsk arc occupied an important height, which enable to reduce the number of attacks.
This was stated by the Minister of defence of Ukraine Stepan Poltorak, in an interview with channel 5.
Read also: Militants pulled Grads to Svetlodarsk arc
"Unfortunately, the grouping of troops, which is in Donetsk and Lugansk – it is not in place, it is a "living organism", he moves, especially using the so-called "grey zone" and trying to do so that the height of the very important objects to take," said the head of the defense Department.
"Svetlodarsk arc is one example, when we were forced to react to the movement of terrorist groups ahead of their holding of important heights, and assault those actions that began with the terrorist groups, got a decent answer and is almost on the shoulders of the upcoming groups we have taken are the height and important positions, strong points, which give us the opportunity to significantly reduce the number of attacks in that direction, and to reduce the risk of bypass of our units, and the seizure of objects in the "gray area", – said the Minister.
He also noted that the army had not violated the Minsk agreements, taking control of new positions, since, according to the treaties, the territory and so belonged to Ukraine.
Buried hero, who had covered the retreat of the last on the arc Svetlodarsk
TSN. Pdsmi day
December 29, 2016, 00:08
Add to favourites
Andrew Baybuza – a soldier of the 54th mechanized brigade was heavily wounded, but he asked the brethren not to take him from the battlefield. Covered the retreat of the latter. The body of Andrew was able to pick up off the battlefield in a week. Buried fighter today in the Kherson region.
Comments
comments