The Ambassador explained why Poroshenko will not be at the inauguration of the trump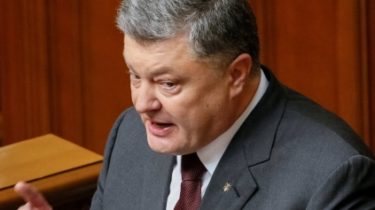 The Ambassador explained why Poroshenko will not be at the inauguration of the trump
Petro Poroshenko© Reuters
The minutes of the meeting do not provide for the participation of heads of state.
The Protocol service of the U.S. administration did not foresee the participation of heads of state at the inauguration of the 45th President of the United States – just as it happened with the previous practice.
This was announced by the Ambassador of Ukraine to the United States Valeriy Chaly in interview to UKRINFORM, explaining why the President of Ukraine Petro Poroshenko will not be at the inauguration of Donald trump.
Read also: After inauguration, trump did not stop the flow of messages in Twitter
"Around this question arose a lot of speculations. And they don't stop," he said.
"The Embassy (of Ukraine – ed.) received an official note from the us to the Protocol that this inauguration on the level of participation of countries will take place according to the same rules as in previous years. That is, these official event ambassadors, and no invitations to heads of state not sent", – said the diplomat.
Recall, January 20 at the concert, devoted to the entry of the trump for President, will speak at the new York dance troupe The Rockettes, the Mormon tabernacle choir and 16-year-old contestant on "America's got talent" Jackie Ivanko. The last will sing the US national anthem. By the way, she has Ukrainian roots – Ivan the great-grandfather on the paternal side was Ukrainian. However, singers Elton John and Celine Dion refused to speak.
Comments
comments