The OSCE mission will expand the control zone to the whole territory of Donbass – Kurtz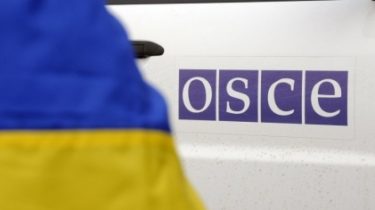 The OSCE mission will expand the control zone to the whole territory of Donbass – Kurtz
© UNIAN
But the efforts of the OSCE mission is not enough.
Special monitoring mission of the OSCE to expand its zone of control on the entire territory of Donbas, and, above all, will monitor the cessation of hostilities.
This was stated by the Chairman of the OSCE, Federal Minister for Europe, integration and foreign Affairs of Austria Sebastian Kurz in Mariupol at a joint briefing with the Minister of foreign Affairs of Ukraine Pavel Klimkin, reports " Interfax.
Kurz also stressed the need for a realistic approach to the capabilities of the mission.
"As for the mission I'm asking you to realistically approach this issue. The OSCE 57 member countries and decisions are taken by consensus," said Kurtz, answering the question of Ukrainian journalist about the possibility of introducing in Ukraine a police mission of the OSCE.
The Minister noted that the OSCE will do everything possible "to keep the mission operated as efficiently as possible, conducted surveillance on the whole territory of Donbass, and to the efforts of the mission had reached a complete cease-fire."
See also: Klimkin called the condition of lifting the sanctions against Russia
But the efforts of the OSCE mission is not enough, said the head of the organization.
"It requires an effort and there where decisions are made in Moscow, Kiev and in other countries," said Kurtz.
He also noted the importance of restoration of the destroyed Donbas infrastructure, but stressed the priority of ensuring ceasefire on both sides.
"We need to continue to engage in dialogue and negotiations. But the Minsk agreement is the only base document, upon which we must act. And although I am not satisfied with the status of implementation of these agreements, I have to say that the situation at the time of signing was worse than now. And could be even worse than now. I'm not happy with the current "status quo", but in the absence of other underlying document, we must fulfill the Minsk agreements", – said the Chairman of the OSCE.
As previously reported, the new OSCE Chairman Sebastian Kurz said that a full ceasefire must be the basis for holding fair and free elections in certain districts of Donetsk and Lugansk regions.
Comments
comments