"PrivatBank" has stabilized after the nationalization.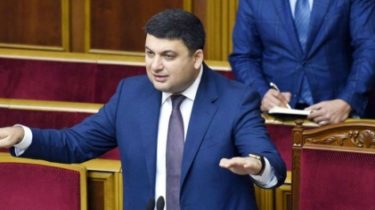 "PrivatBank" has stabilized after the nationalization.
© UNIAN
The Prime Minister praised the new management of the financial institution.
The current situation with "PrivatBank" Prime Minister of Ukraine Volodymyr Groysman assessed as normal. He stated this in an interview with UKRINFORM".
According to him, the nationalization was a necessary step of the government, but the new management is able to ensure the growth of the Bank.
"What have we done? We made the decision to move the Bank to the state property, we capitalize. We have now appointed a management. I think that Oleksandr Shlapak, a former Finance Minister, is highly professional and responsible person. That is, the Bank from the point of view of management is in absolutely safe hands, with reliable intelligence and experience. The Bank was stable, the situation is normal. Today the law guarantees the return of deposits to physical persons – depositors of the Bank. The Bank's management as only one task – to develop the Bank, make it more successful. And I was completely satisfied," – said Groisman.
In addition, the Prime Minister said that the dollar in Ukraine could cost no more than UAH 18.5, if the country were able to provide themselves with energy. Energy independence, according to Groisman, will be one of the priorities of the government, and significant changes can be seen after 3-5 years.
We will remind, on the nationalization of "PrivatBank" became known late on Sunday evening, December 18. Wednesday, December 21, the financial institution officially became a state property. The Ministry of Finance bought "PrivatBank" Deposit guarantee Fund of natural persons for a symbolic one hryvnia. As it became known, the Ministry of Finance capitalized nationalized "PrivatBank" to 107 billion UAH.
Comments
comments