The militants fled from "army LDNR" and the Russian command stuffing their own pockets – exploration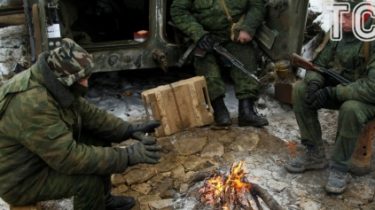 The militants fled from "army LDNR" and the Russian command stuffing their own pockets – exploration
© Reuters
In the ranks of the militants is growing discontent.
Dissatisfied with the conditions of service of the militants fled from the ranks of the so-called "army" occupied lands of Donbass. As the Department of intelligence, the insurgents lose motivation amid rising discontent.
It is noted that since January 3, the representatives of the Russian FSB in conjunction with so-called "Ministry of state security of the DPR" have undertaken the compulsory involvement in the fighting in the composition of the advanced units of the so-called "army".
"As a rule, in the advanced units of troops sent, with the aim of re-education of those who in any way expressed dissatisfaction with the activities of the Russian occupation forces and local authorities, or without obtaining permission of the FSB were on the territory controlled by Ukraine", – stated in the message intelligence.
WTP reports that the militants fleeing not only from the "DNR", but also from divisions of Luhansk, Alchevsk, Bryanka, Crystal and Kadievka.
"Command staff, arrived on rotation from the territory of the Russian Federation, is engaged in the improvement of their material and financial situation of the local population and subordinate personnel, which leads to the almost daily deterioration in the organization of service personnel at the forefront", concludes the message.
Recall that in the past days, the militants intensified in all directions of the line of contact, firing Ukrainian positions 52 times. Neither fighter was killed.
Comments
comments