"LDNR" growing discontent over unpaid wages and inedible humanitarian aid – scouting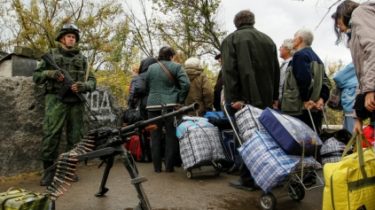 "LDNR" growing discontent over unpaid wages and inedible humanitarian aid – scouting
© Reuters
The occupying power resorts to wanton arrests and intimidation.
Among the population of the temporarily occupied territories of Donetsk and Lugansk regions, the rise of dissent and discontent with occupying the Kremlin's "power". It is stated in the report of the Chief of intelligence.
Discontent is growing because of the systematic arrears in wages and pensions, nizkogo quality food that come with the Russian "humanitarian convoys". Permanently fixed delivery shoddy, third-rate products, including meat products and alcoholic beverages, which are not in demand even in Russia and are conditionally suitable for consumption.
In addition, the intelligence reports about the arbitrariness of employees of the so-called "law enforcement" terrorist "LDNR". Under the pretext of fighting with "agents of the intelligence services of Ukraine" they resorted to arbitrary arrest, robbery, torture and cruel treatment, while pursuing their own interests and the desire to enrich themselves at the expense of local residents, especially those engaged in entrepreneurial activities.
Also according to intelligence sources 6 Jan recorded the arrival at the station Rovenki five railway tanks with about 250 tons of fuel and lubricants.
The intelligence reported that the Russian military feign illnessin order not to go on a business trip to Donbass.
Comments
comments