In "Naftogaz" expects provocations from "Gazprom" from-for strong frosts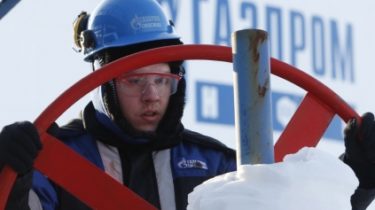 In "Naftogaz" expects provocations from "Gazprom" from-for strong frosts
© Reuters
Experts predict a third gas crisis, which now can be solved by the Kremlin.
Due to severe frosts in Russia "Naftogaz of Ukraine" expects provocations from outside "Gazprom" and groundless accusations against Ukraine of failing to ensure transit.
About it the press service of the company reported on the page in Facebook.
See also: "Gazprom" has reduced gas transit through Ukraine after the decision on the part of the "Nord stream"
"It is likely a situation when Gazprom will not have enough resources on their heating, and for export to the EU. Then the extreme will try to do to us", – noted in press service.
"Wait favorite song: scare that Ukraine takes gas from its underground gas storage facilities (UGS – underground gas storage – ed.). This is our gas that we pumped into storage for that winter away. No obligation to help "to Gazprom" our reserves when it lacks, Ukraine no" – said in "Naftogaz".
In addition, it is reported that Ukraine's severe cold touched only partially, and the company has sufficient volumes of gas in storage.
See also: In Lithuania has obliged "Gazprom" to pay the largest in the history of the country fine
Also, the press-service of "Naftogaz" shares a post Mikhail Gonchar, Director of the Center for global studies "Strategy XXI". The expert noted that the coming days will show, dare the Kremlin to provoke a third gas crisis.
"Gazprom" can be in the position 5 years ago- the end of January – beginning of February 2012, when he was not able to meet the needs of foreign consumers during peak growing needs of the Russian. […] Then the advantage will be provided to the satisfaction of the Russian requirements, and Europe can partly be cut off, ceasing the transit through Ukraine under the artificial pretext of "gas theft", because in the Ukrainian UGS "little gas," wrote Potter.
Petro Poroshenko said that the termination of the agreement with Gazprom will reduce gas prices
TSN. 19:30
December 14, 2016, 21:36
Add to favourites
The President said during his visit to Ternopil region. Poroshenko assured that the Ukrainian side expects a positive decision of the Stockholm arbitration court in the case of "Naftogaz" against "Gazprom". Last week concluded the hearing. "Naftogaz" requires "Gazprom" to return the overpayment for expensive gas purchased under contract from 2011 to 2015.
Comments
comments