The Deputy of the state Duma called the annexation of Crimea is a miracle and associated it with the Gifts of the Magi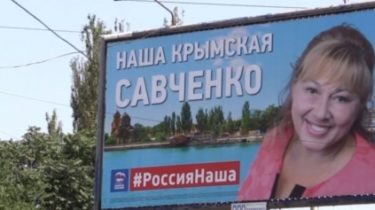 The Deputy of the state Duma called the annexation of Crimea is a miracle and associated it with the Gifts of the Magi
© The Crimea.Realities
The occupation of the Crimea was really connected with the Orthodox relics, the truth is more prosaic way.
The so-called Deputy of the state Duma of Russia, which chose in the Crimea, Svetlana Savchenko considers that the Russian annexation of Crimea was a miracle.
According to Savchenko, which she recently shared on his page on Facebook, a miracle in the Crimea began in January 2014, when the Peninsula came the greatest Orthodox relic – the Gifts of the Magi. Also, in her opinion, a miracle are events associated with the annexation of the Peninsula.
See also: In occupied Sevastopol, the man threatened the authorities of the Russian Federation and tried to burn a tricolour
"The gifts of the Magi left his abode on mount Athos and brought to Russia, Ukraine and Belarus. Simferopol and Sevastopol was not originally included in the itinerary of the shrines. But… God works in Mysterious ways. And we had the incredible joy of meeting with such relics. The Crimea is also a miracle happened" – says the Deputy.
Earlier, former Deputy Prime Minister under the control of the government of the Crimea Rustam Temirgaliyev told Russian media in January 2014 the state Duma of Russia made every effort to deliver from mount Athos in Crimea the plane with the Gifts of the Magi. The event was held under the patronage of the Russian Orthodox Church.
Ukraine imposed new sanctions against deputies of the state Duma, elected from Crimea
TSN. Pdsmi day
December 30, 2016, 00:18
Add to favourites
It is also about the judges involved in the illegal content of Ukrainian citizens in Russia. Also today, the security Council adopted the "Doctrine of information security of Ukraine". The document envisages ensuring full coverage of the territory of Ukraine digital broadcasting, primarily the border guard and temporarily occupied territories.
Later it turned out that on Board the same plane arrived in Crimea one of the leaders of the operation to seize the Peninsula (and later the commander of Pro-Russian militants "DNR"), Igor Girkin, Russian businessman Konstantin Malofeev, who is known as the financier of the campaign for coming to power of the former under the control of Governor of Sevastopol Alexey Chaly.
In the SBU this visit to the Crimea as one of the components of the activities of Russian intelligence that preceded the annexation of the Peninsula in 2014.
Comments
comments