The star of "Star wars" sounded creepy Christmas tweet trump the voice of the Joker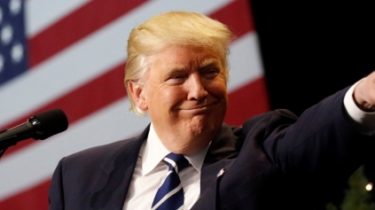 The star of "Star wars" sounded creepy Christmas tweet trump the voice of the Joker
© Reuters
Together with writer Matt Oswalt actor potrollit the newly elected President.
Known for the role of Luke Skywalker in "Star wars" actor mark Hammil announced a new year's Twitter-congratulations to the newly elected President of Donald trump.
However, he did voice a negative character from the comics – the Joker, whom the actor has voiced many cartoons.
Happy New Year to all, including to my many enemies and those who have fought me and lost so badly they just don't know what to do. Love!
— Donald J. Trump (@realDonaldTrump) December 31, 2016.
It all started with the fact that trump's new year's tweet drew the attention of the American writer Matt Oswalt. He noted that "welcome" the newly elected President to his detractors that sounds like the joke of the Joker before he is about to unleash on Gotham swarm of killer bees.
What responded immediately mark Hammil and Twitter has posted the corresponding audio recording.
See also: trump and Schwarzenegger have arranged the online battle for TV ratings
"Happy New Year to all, in particular, a lot of my opponents and those who fought with me, but lost so badly that I don't know what to do now. Love!", says words trump the Joker.
The Trumpster quote #1#ANewJeersToast https://t.co/qZQEGU18r6
— Mark Hamill (@HamillHimself) January 8, 2017
Oswalt and Hammil in correspondence joked that the writer came up with the idea of a "million dollar" app, which would be voiced tweets trump the voice of the Joker, and Hammil expressed a desire to join the project.
It should be noted that among the hashtags, the actor stated "the Candidate of the Kremlin", alluding to trump's relationship with Putin.
Oh wow. Hey, @iamsambee, @iamjohnoliver and @HamillHimself? Maybe join forces and make this happen? https://t.co/6vNtQgMUqe
— Patton Oswalt (@pattonoswalt) January 7, 2017
In numerous comments to tweets, the actor subscribers suggested to name Putin the voice of Harley Quinn girlfriend of the Joker.
We will remind that earlier American actor Alec Baldwin in a satirical way, expressed his attitude to the relations and attachment of the newly elected President of Donald trump to Russia and the Russian President. The actor strolled the streets of new York in the cap on which was stitched the translation of the slogan of the presidential campaign, trump in Russian.
Comments
comments