In Kiev, shot and killed a man right in front of the door to his apartment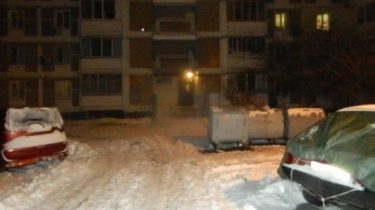 In Kiev, shot and killed a man right in front of the door to his apartment
Kiev
Today, 16:19
1 of 3

© GU NP from Kiev

1 of 3

© GU NP from Kiev

1 of 3

© GU NP from Kiev
© GU NP from Kiev

© GU NP from Kiev

© GU NP from Kiev
From the shots in the stomach from Kiev died on the spot.
In Kiev this weekend at about 21:00 unknown entered a locked house on the street revutskogo and shot the man.
It is reported by the Metropolitan police.
It is noted that the police, a woman called and reported that shot her husband, who was returning from a friends home.
Rising to his floor, 54-the summer inhabitant of Kiev just in the corridor received a gunshot wound to the abdomen and died on the spot.
The woman and the neighbors heard the shots and immediately called the police, but the killer managed to escape in an unknown direction.
The police started criminal proceedings under part 1 St. 115 "murder".
Read also: In Russia, a former police officer confessed to the murder of 82 women
We will remind, on new year's night in the Ovidiopolsky region of Odessa region there was a double murder. Police found two bodies with signs of violent death. "The only case occurred in Ovidiopolsky district of Odessa region, where in one of the estates of the village Prilimanskoe it was discovered two dead bodies with signs of violent death. This event brought in eRDR under article 115 of the criminal code – "premeditated murder", — said the speaker of Ukraine Yaroslav was Trakalo.
Comments
comments