In the Kharkiv city Council conduct searches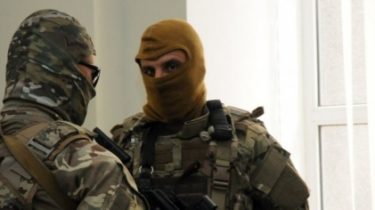 In the Kharkiv city Council conduct searches
© UNIAN
Searches conducted by prosecutors and police region.
In the Kharkiv city Prosecutor's office and the office for the protection of the economy Chief of police to carry out searches.
About it reports UKRINFORM with reference to the press Secretary of the Prosecutor of Kharkiv region Vita Dubovik.
"The investigation under the article "Receiving improper benefits". But the main person involved is not an employee of the city Council. Conducted several searches at the same time," – said Dubovik.
Details in office of public Prosecutor promised to inform later.
In turn, the Director of the Department of information and public relations of the Kharkov city Council Yuri Sidorenko said that the security forces are working in the legal Department.
"Such action, unfortunately, become traditional and give a reason to discredit the Council," – said the official.
Depo.Kharkiv reported, citing an informed source in law enforcement bodies, searches in connection with extortion of a bribe. The money required for extending the lease of the premises. In particular, the entrepreneurs should have been released, according to the court decision and the requirements of the city Council premises in the city centre, however, did not want to do that. Therefore, the representatives of the city Council gave them the contact of a certain lawyer who was supposed to solve their problem.
When entrepreneurs turned to the "lawyer", he demanded to pay a certain sum of money, and one of the entrepreneurs I addressed to militiamen with the statement. Police arrested a "lawyer" at the time of receiving the money.
See also: In Kryvyi Rih with the permission of the court in the case of Novinskiy searched the city Council
We will remind, 15 and 17 November in Lviv city Council visited the staff of the GPU, the SBU, the military Prosecutor's office and national police. Militiamen began pre-judicial investigation on the sale of civil servants of the Lviv city land for the project on creation of industrial Park at a discounted price of UAH 52 million instead of 140 million UAH, than caused huge losses.
Comments
comments