In the occupied Crimea are preparing an appeal of the return of the "Scythian gold" to Ukraine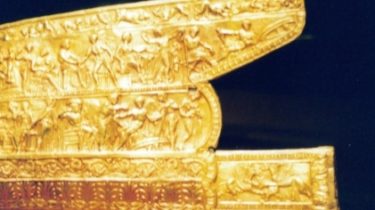 In the occupied Crimea are preparing an appeal of the return of the "Scythian gold" to Ukraine
© flickr.com
14 December 2016 the Netherlands has decided to back the "Scythian gold" to Ukraine.
Museums Russia-occupied Crimea began preparation of an appeal regarding the decision of the district court of Amsterdam to present the collection "Scythian gold" to Kiev.
This is reported RIA Novosti with reference to the head of the Crimean Central Museum of Tauris Andrei Malgin.
According to him, the process of preparing an appeal has already begun.
Preparation of appeal dealt with directly by the lawyers representing the Crimean museums in court.
See also: Everything you need to know about the "Scythian gold". Infographics
We will remind, in December of 2016 the district court of Amsterdam decided to return to Ukraine, collection of the Crimean museums, known as "Scythian gold". The artifacts in the exhibition were taken from Ukrainian museums that are located in the Crimea, and return them demanded the Museum, subordinated to the Russian occupation authorities. Treasures do not belong to specific museums and Museum Fund of Ukraine, but to return them without a trial the Dutch side refused. Exhibition in the Netherlands opened in February 2014, a month before the start of the Russian occupation and annexation of Crimea. Among the exhibits – artifacts of Scythian gold, jewels and swords of the ancient Greeks and Scythians. The cost of collection is estimated at $ 1.5 million.
After the court decision , the museums of the occupied Crimea announced that they will appeal it. "The decision to transfer Ukraine comes into force after the proceedings in the court of appeal. The appeal will be filed," – said the lawyer defending the interests of the Crimean museums in this process.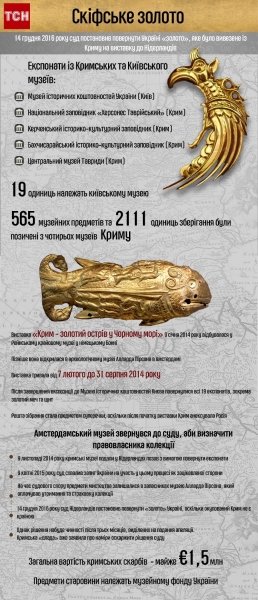 Comments
comments