Against Savchenko can open criminal proceedings for the publication of the list of prisoners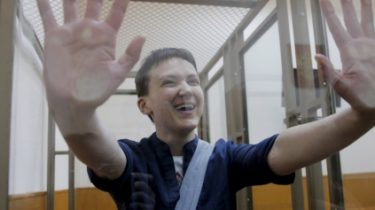 Against Savchenko can open criminal proceedings for the publication of the list of prisoners
© Reuters
Any violation of the law on combating terrorism.
In fact , the disclosure by the people's Deputy Nadezhda Savchenko of the names of the missing and prisoners of the Ukrainian military personnel can be criminal proceedings.
About this "Ukrainian truth" said the representative of the Secretariat of the Verkhovna Rada Commissioner for human rights Mikhail Chaplya.
"The law says about a special order of publication of information on soldiers. And some of those missing or captured in the territory ORDO is our military. There is a violation of the law on combating terrorism. In this aspect, the possible beginning of a criminal prosecution," said Chaplyga.
According to him, some human rights activists welcomed the initiative Savchenko, as welcomes any steps to accelerate the liberation of the Ukrainian hostages.
"If there are people who believe that their right to privacy violated, they can apply. Can be opened criminal proceedings under article 182 of the criminal code – illegal collection, storage, use, dissemination of information about the identity without her consent. The proceeding can be commenced by a preliminary investigator or Prosecutor only on the basis of the statement", – said Chaplyga.
Earlier, Savchenko has published the lists of prisoners detained Ukrainians and separatists. The MP also described the classic method of exchange in three stages, which is well proved in many countries during wars.
It should be noted that the publication of a people's Deputy and former prisoner of the Kremlin Nadezhda Savchenko in the lists of prisoners and missing in the Donbass, and also suspected of activities in favor of "DNR" and "LNR" people received mixed reviews in the Ukrainian society. The politician believes that the publicity will benefit the exchange process, whereas the SBU, the participants of the Minsk talks, as well as former prisoners say that such actions destroy all the efforts of the official negotiating group.
Comments
comments