Chervonenko has promised to "multiply by zero" the analyst, which clashed at the gas station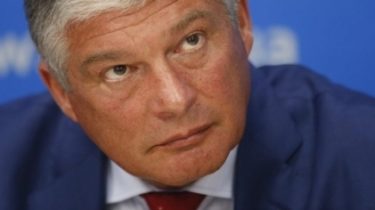 Chervonenko has promised to "multiply by zero" the analyst, which clashed at the gas station
© UNIAN
The offender called a master of fakes and threatened court.
Former Minister of transport and communication and ex-head of Zaporizhzhya regional state administration Evgen Chervonenko retorted the scientist Konstantin Batozsky, who posted the information about the conflict at the gas station near Rivne in the social network.
In the comment to the edition "Journalist" Chervonenko deployed explained the situation at the gas station. As the day of the conflict, he said that was very tense because of the conversation with partners from California, besides, as says, used a corporate card through the terminal which does not involve standing in the General queue.
The politician says that phrase, which brought him out of balance is: "Stop, Mr. Chervonenko, to speak the Russian language." And after that, says the politician, the Batozsky turned a lot of criticism and threats "show on Facebook".
Chervonenko also accused Batozsky that he deleted comments, in which the protection Chervonenko stood an employee of the gas station. At the end of the comment, the politician launched into a tirade about the former assistant Taruta.
"You're not a man. I don't know where you have children, most likely out of the tube, but you're not human. Because you erased the comments of the employees of the gas station. God is not a simpleton, he sees everything and he punishes people like you. You were the fifth assistant Taruta, you're from Donetsk, and you teach me Ukrainian language? What are you a scientist? Or, maybe you're there planted the Ukrainian language? Probably because of this there is war. Because like you, in pursuit of popularity do bad things. You're not known, even name remember will not. If necessary, I will, within the law, with his energy, knowledge and facts just multiply by zero. Because that has no place in politics, no place in journalism" – emotionally said the politician.
In addition Chervonenko called Batozsky "master of fakes" and promised with the help of their lawyers and the court to leave him without a livelihood.
Comments
comments