In Kiev, a man was shot right in front of the entrance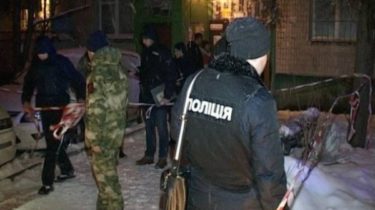 In Kiev, a man was shot right in front of the entrance
Kiev
Today, 12:55
1 of 6

© GU NP from Kiev

1 of 6

© GU NP from Kiev

1 of 6

© GU NP from Kiev

1 of 6

© GU NP from Kiev

1 of 6

© GU NP from Kiev

1 of 6

© GU NP from Kiev
© GU NP from Kiev

© GU NP from Kiev

© GU NP from Kiev

© GU NP from Kiev

© GU NP from Kiev

© GU NP from Kiev
Upon a premeditated murder the criminal proceedings are begun.
Around midnight in the Dnipro district of the capital, a man was shot right in front of the entrance, the victim died in hospital this morning.
It is reported by the Metropolitan police.
According to the witness, on rusanivsky Boulevard on the street near the entrance he saw two men. One of them was holding a gun and fired five shots and ran away, the other man fell back.
40-year-old local resident was sent to the hospital with a gunshot wound to the head, chest and shoulder. In the morning the victim died from his injuries.
At the scene police seized five cartridges of cartridges of 9 mm caliber, two bullets, a car "Volkswagen Passat", a bunch of keys from cars and apartments.
The police launched criminal proceedings to investigate the cause and circumstances of the incident, trying to identify the attacker and arrest him.
Recall that in this weekend from Kiev shot the man right in front of the door to his apartment. It is noted that the police, a woman called and reported that shot her husband, who was returning from a friends home. Rising to his floor, 54-the summer inhabitant of Kiev just in the corridor received a gunshot wound to the abdomen and died on the spot.
Comments
comments