Russia has called the conditions for lifting the sanctions against the new foreign Minister of Canada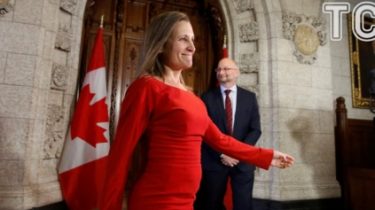 Russia has called the conditions for lifting the sanctions against the new foreign Minister of Canada
© Reuters
Newly appointed Minister with Ukrainian roots Freeland is under sanctions from 2014.
The new foreign Minister of Canada Chrystia Freeland is located in Russian sanctinaumi list
This is with reference to a source in the Russian foreign Ministry, write "RIA Novosti".
"She is under sanctions from 2014, it's no secret. She was included in the list of sanctions in response, because Canada has imposed restrictions against Russia, including officials. Question of its exclusion from the appropriate list of sanctions is an issue of reciprocity, and reflectivity ", – assured the Ministry.
According to the representative of the foreign Ministry, the fact of the Freeland in the Russian stop-list "will not prevent the Russian officials to communicate with her on international platforms".
"We are ready to cooperate with Canada in all areas – to improve relations, to end the sanctions wars. But we started them. The question for Ottawa," – said the source.
We will remind, the day before, on January 10, canadian politician of Ukrainian origin Chrystia Freeland officially headed the Ministry of foreign Affairs of Canada.
Freeland – daughter lawyers Donald Freeland and Ukrainian origin Galina Hamster. The politician was a journalist and started his career in Ukraine as a stringer for the Financial Times, The Washington Post and The Economist. She subsequently held the position of managing Director of the Financial Times in the United States. In March 2010, Freeland was appointed editor of Thomson Reuters, and in April 2011 became editor of Thomson Reuters Digital.
In 2013, she left journalism to run for election to the canadian Parliament from the Liberal party. In November 2015, became Minister of international trade Canada.
Comments
comments