In the Kremlin considered a serious threat to the deployment of us tanks in Poland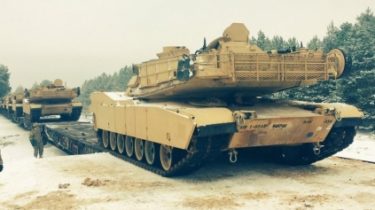 In the Kremlin considered a serious threat to the deployment of us tanks in Poland
© 16th SB/Twitter
January 9, American tanks arrived in Poland.
The Kremlin has called a threat to the interests and security of Russia the placement in Poland of American tanks and armored vehicles.
This was stated to journalists the press Secretary of the President Dmitry Peskov, Interfax reports.
"We look at it as a threat to us. This actions that threaten our interests, our security," – said Peskov.
According to him, any country building up foreign military presence on its borders can perceive and will be perceived negatively.
"Especially because we are talking about the fact that a third country is increasing its military presence near our borders in Europe," – said the spokesman.
Read also: NATO prepares for possible Russian aggression: in Germany arrived American tanks
We will remind, in Poland arrived military equipment – the first shipment of tanks from the United States, in the framework of the strengthening of the Eastern flank of NATO. The U.S. military published a photograph of unloading of the first tank M1 "Abrams" on Polish soil. This is not the first such machine in Poland, but the first unit of a tank brigade, moving NATO to the East.
Comments
comments