"Lower your hand, are you sick?". Poroshenko in Odessa sharply cut official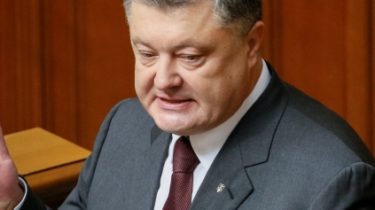 "Lower your hand, are you sick?". Poroshenko in Odessa sharply cut official
Petro Poroshenko© Reuters
Subsequently, the head of state summoned the man who tried to say something.
The President of Ukraine Petro Poroshenko during the presentation of the new head of regional state administration Maxim Stepanov in Odessa sharply pointed out the place of one of the officials.
The head of state talked about the increase in the budget of local authorities and suddenly interrupted, turning to one of the officials: "put your hand Down. Are you sick?".
From the hall he something tried to answer. However, Poroshenko said: "You when I will be President I will invite you and you play instead of me."
"Sorry, I to you while the words are not allowed. You are appointed by a decree of the President please be seated. If you want to report to the President any information, I give you this opportunity, sit down," the President said.
After the meeting, he was called "head of administration", which raised her hand.
Video of the incident:
We will remind, competition on a post of the Governor of the Odessa region has won Maxim Stepanov, Director of the state enterprise "Printing plant "Ukraina" for production of securities". He led the region after the resignation of Mikheil Saakashvili.
Comments
comments