"Ukrposhta" he wants three times to raise the Commission for reception of utility bills for residents – givc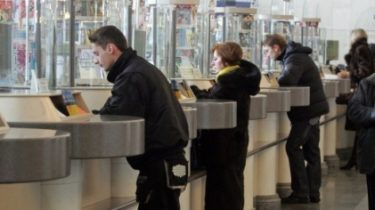 "Ukrposhta" he wants three times to raise the Commission for reception of utility bills for residents – givc
© UNIAN
The capital's post offices from January 1, do not spend the payments.
The state enterprise "Ukrposhta" in its offices in Kyiv since the beginning of the year does not accept utility payments receipts, which forms the municipal enterprise "Main information and computer center" (givc). In "Ukrpochta" say the Commission, previous, unprofitable enterprise, because the service is unprofitable. Negotiations with the MICC on the new fee amount has not yet yielded results.
To givc said that "Ukrposhta" wants to increase the Commission three times – up to 1.5%. This was announced by Director givc Vitaly Kosovsky on a press-conferences, transfers UNIAN.
"We have until the end of 2016, was the applicable agreement, which provides for a financial reward "Ukrpochta" for receiving payments. In the draft Treaty that was proposed by the "Ukrposhta" from 1 January 2017, after their initiative was terminated the existing agreement, the "Ukrpochta" for the reception of utility bills increased three times – up to 1.5%", – said Kozubski.
He noted that MICC is unable to pay such amounts to financial institutions for the provision of services.
"This exceeds the fee that is in force with other financial institutions. For example, for commercial establishments, this Commission ranges from 0.5% to 0.7%," said Kozubski.
Note that the MICC forms notice of payment of accounts for centralized wastewater hot water centralized supply of cold water and Sewerage, and the maintenance of buildings and surrounding areas (rent) in Kiev.
Postal operator apologised to customers for the inconvenience and offered to temporarily go with a payment system givc the Bank or use e-services.
Recall from the beginning of 2017, the state "Sberbank" has introduced a fee for communal – 3 UAH per each payment. Not they will pay only those retirees who have a pension card of the Bank.
Comments
comments