Dog hunter said the explosion in his house terrorism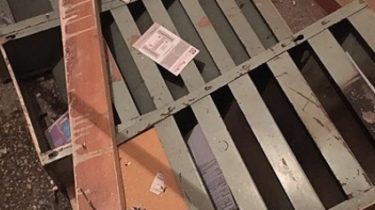 Dog hunter said the explosion in his house terrorism
© npu.gov.ua
The man said that in the house where the explosion occurred, it almost never happens.
An explosive message to the knacker. In the Dneprovsky district of Kiev unknown planted a grenade in a residential high-rise building. There lives a famous hunter dogs Alexei Svyatogor. An explosive device installed in his mailbox, but instead of a dog hunter injured his brother, according to TSN.12.00.
The man received minor injuries and refused hospitalization.
The one who was meant pomegranate, outraged, he says that the explosion was the handiwork of the animal rights activists. Male sure of it, because on his account for hundreds of dead dogs.
Alex convinces that here only registered and is very rare.
Read also: In Kiev, the hunters announced the mass killings of dogs ahead of the Eurovision song contest – the animal
"I don't live here, just registered, come pick up the mail, there is the risk me to get would be minimal," – says the man.
According to preliminary data, grenade RGD-5. The mailboxes were taken for examination.
The police in this event qualified as attempted murder. However, the one who designed the grenade says it's terrorism.
"Let's call a spade a spade. Was a terrorist act. Those bastards, scum, scum regardless that the entrance can be anyone, well I was there someone doesn't like you, but you have to think that there are people walking around completely "left", uncomplicated, the same relatives," says Alex.
See also: "pineapple" for the dog hunter: it became known who designed the grenade in the mail the Kiev house
And even after what happened, from their views about homeless animals will not change. Would that be easy now.
Recall that the name Alexey Svyatogor has long been known to the Kiev animal rights activists. Today they were waiting to protest under the walls of Shevchenkovsky regional court of Kiev. For several years, the court considers the case against the defender Alina Kostenko. Svyatogor sued her in court for what during the show, dedicated to the activities of hunters, she lost control and hit him. The trial was postponed to 9 March.
"Sued to Alina because she could not stand, because it is in social networks, propaganda, and poisoned dogs not only homeless and in shelters could pick up, and pet," says a participant.
In Kiev unknown planted a grenade in a residential high-rise building
TSN. Wounds
Today, 12:34
Add to favourites
In the Dnieper area exploded Inbox. In this house lived a famous hunter dogs Alexei Svyatogor. But instead of the dog hunter hurt his brother. 38-the summer man came back home and just decided to check my email.
Comments
comments