The fog changed the tactics of fighting in Donbas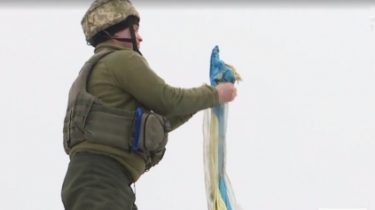 The fog changed the tactics of fighting in Donbas
Significantly increased the threat of attacks DRG.
Dense fog in the Donbass Ukrainian soldiers exasperated, because in this weather aktiviziruyutsya enemy saboteurs, hopefully unnoticed, to come as close to the APU. But the army task is not allowed near the battle and fight off the enemy with minimal visibility, says the story TSN.19:30.
Under these conditions, the maximum soldiers keep on the alert, and even more listened to than peered into the fog. "Four days ago, all swear words listened to with a landing could be heard. Apparently, someone over something precepice or fell, do not know" – said the soldier of the 25th battalion with the call sign "Jackson." Terrain features on the front such that the sound per kilometer reach with such force, if its source is a few meters. Therefore, even someone's sudden laughter from the occupants fighters instinctively respond with shots.
At the front due to foggy weather intensified the saboteurs of the opponent
TSN. 19:30
Yesterday, 20:04
Add to favourites
While one way from the occupied territory of Donbass heavy artillery is flying, in other positions of Ukrainian soldiers pestering the saboteurs of the opponent. Now Donbass almost every night comes a thick fog. And the militants are using the weather to come as close as possible to the locomotive. Visibility is minimal, and the task of fighters not to allow near the battle.
"Listen" fog on the opposite side of the front. And almost on every suspicious sound – open fire. Three explosions 80-millimetric mines is a consequence of the fact that the militants did not like how the guys on Ukrainian positions with a chainsaw to cut firewood. However, the soldiers do not complain: they say that when you hear everything is much better than when not heard. Features military positions such that the "visitors", coming from several sides, and if the enemy manage to get to the rear, it will create a small "pot". Therefore, the bypass perimeter every 15 minutes to prevent surprises.
Because of the danger from DRG enemy soldiers even decided to curtail their flag. "Strong wind today was. And he flew and hurt the kids just to listen," said the soldier of the 24th brigade with the Callsign "Brist". To flag have already made the case, in which it is stored at night when danger is greatest. Day cloth hyping the dugout, for it is the pride of the Ukrainian military.
The TSN reporter Mariana Buhan
Comments
comments