Network found sharing a photo of the leader of the Russian mercenaries of "Wagner" and Putin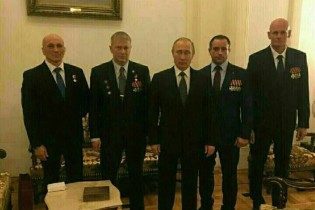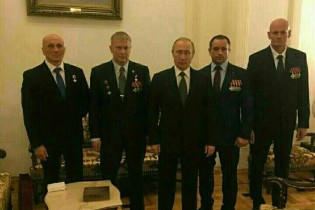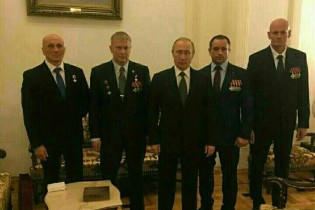 Network found sharing a photo of the leader of the Russian mercenaries of "Wagner" and Putin
© Photo from social networks
"Wagner" – an informal armed groups that took part in the fighting in the Donbas and the war in Syria.
In the Network appeared the picture of the head of the Russian "private military company Wagner" – Dmitry Utkin with Russian President Vladimir Putin.
It is reported by the St. Petersburg information portal Fontanka.ru.
"The photo published on 13 January… in the social network "Vkontakte", depicts five men in the Palace interior. The center of them like the President of Russia Vladimir Putin. The man second to the left of him is Dmitri Utkin, who is considered the commander of the informal "PMC Wagner"; and the first right – the Colonel of police, retired from St. Petersburg Andrei trosheva. The rest of the characters in the picture unidentified. The caption to the photo is: "What is…? Just a photo", – stated in the message of the media.
On the chest of the two men who are left, including similar Utkin, four orders of Courage, men on the right (including in trosheva) – Gold stars of Heroes of Russia.
"Judging by the surroundings, the costumes and the arrangement of the awards, probably the could be made at a reception in honor of the Heroes of the Fatherland, which was held in St. George hall of the Kremlin on 9 December 2016", – said the Russian edition.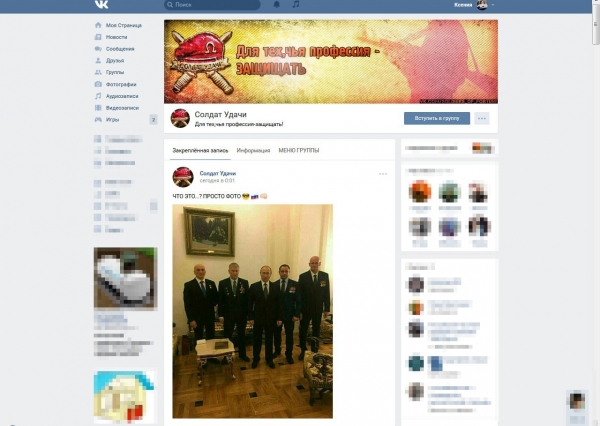 Photo from social networks
We will remind, the leader of the mercenaries "Wagner" caught at the Kremlin reception on 9 December. It is reported that the presidential reception was held in the St. George hall of the Kremlin, he was invited more than 300 military and civilians, who "showed particular courage and heroism." Among the participants were heroes of the Soviet Union, Heroes of Russia, full gentlemen of order of Glory and Cavaliers of the order of St. George.
In the story "the First channel" shows a middle-aged man who sits at the table on the left, on the border of the frame in this man learned "Wagner", and then confirmed it in his friends.
Russian edition Fontanka conducted journalistic investigation and found out who is actually fighting in the East of Ukraine and in Syria and what are the real figures of the victims of the war. We are talking primarily about the "PMC Wagner." Батальонf "PMC Wagner" legally does not exist, because in Russia there is no law on private military companies or public organizations which may have heavy infantry weapons and armored vehicles.
Later fгентство Reuters has published an investigation about the Russian mercenaries of the group "Wagner", who fought in the Donbass, and then were killed during the fighting in Syria.
Comments
comments