The bodies of three dead Marines near Mariupol have taken to the Dnieper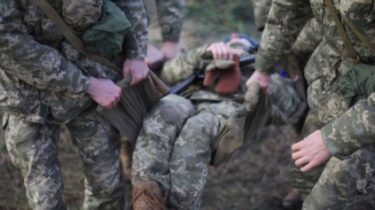 The bodies of three dead Marines near Mariupol have taken to the Dnieper
© National Academy of ground forces named after Hetman Petro Sahaidachny
Body military be given to relatives.
The bodies of three dead Marineswho were killed near Mariupol, was brought into the Dnieper.
Military commanders will give them to relatives, reports 112.
Among them, 50-year-old Junior Sergeant Nikolay Okhrimenko from the Sumy region, 23-year-old Junior Sergeant Sergey Sonico from Kherson and 30-year senior sailor Sergei Trubin with onward.
Read also: Clashes in Mariupol direction: defenders repulsed two attacks and inflicted losses on the militants
Note that marine Sonico decided to protect the Homeland about a year ago. He was the commander of the 3rd branch of the marine corps, concurrently studying at the law faculty of the correspondence Department. In Nikolaev he waited for the girl.
Trubin in order to go to ATO, I left the business. And Okhrimenko, whose family died in the Donbas, came into the marine corps of the volunteer battalion, leaving the mother and brother.
We will remind, on January 8 , three Marines were missing near the line of differentiation on Donbass. Later it became known that they all died. Before the militants gave their bodies to the Ukrainian side.
Comments
comments