Russia is trying to destabilize the situation in Ukraine and to provoke disorder – Poroshenko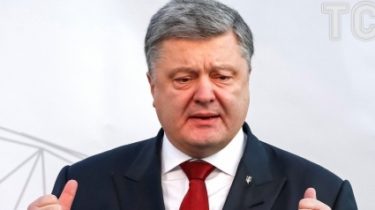 Russia is trying to destabilize the situation in Ukraine and to provoke disorder – Poroshenko
© Reuters
The President stressed that Ukraine is able to resist Russia.
Russia wants to avoid responsibility and trying to provoke unrest in Ukraine and to split European unity.
This was stated by President of Ukraine Petro Poroshenko at a joint press conference with Vice-President of the USA Joseph Biden in Kiev, reports UNIAN.
"Threats remain. Russia seeks to avoid responsibility. It is, to offset military setbacks, is trying to destabilize the internal situation, provoke disorder, it tends to split the transatlantic and European unity," the President said.
Read also: Poroshenko announced when can be withdrawn anti-Russian sanctions
Poroshenko also stressed the need to launch a "road map" of the Minsk agreements and to continue reforms in order to counteract these plans.
"We can oppose these plans, primarily by launching the "road map" implementation of the Minsk agreements and at the same time, the sequel to the successful internal reforms," said Poroshenko.
We will remind, President of Ukraine Petro Poroshenko today, January 16, holds talks with the Vice President of the USA Joe Biden.
According to the White house, during the visit of Vice-President intends to underline its support for Ukraine, and to mark the 25th anniversary of diplomatic relations between the United States and Ukraine. After Kiev Biden, who the post four days left, will go to economic forum in the Swiss Davos.
Comments
comments