Again, the court arrested the property of the SEC "Gulliver"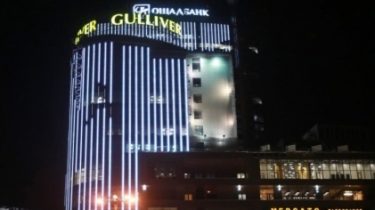 Again, the court arrested the property of the SEC "Gulliver"
© UNIAN
The managers of the complex are not yet known about the arrest.
The court repeatedly has arrested the property of the SEC "Gulliver" in Kiev.
About this "Ukrainian news" has informed a press-the Secretary of the attorney-General Larisa Sargan.
"Yes, arrested," she said, answering the question about the re-imposition of arrest on property of the complex "Gulliver".
Other parts of the proceedings she said.
Agency comments the head of Department on public relations "Gulliver" Tatiana Atajanova said that the managers of the complex are not yet known about the arrest.
Recall, January 10 the arrest of the "Gulliver" shopping Mall in Kiev was removed. The decision adopted by the Kyiv court of Appeals, which reversed the decision of Shevchenkovsky district court of capital.
25 November 2016, it became known about searches in Gulliver. The Prosecutor General of Ukraine Yuriy Lutsenko said on his page in Facebook that the SEC seized in the investigation of the theft in the Bank "Michael". According to him, the investigation established that the owner of the Bank is LLC "Acasian", 92.5% of which is the property of Viktor Polishchuk.
We will note that Polishchuk is the largest owner of network of hypermarkets "Eldorado", the insurance company "Forte" LCD "Green quarter" and "Forest block", and owes Ukrainian banks UAH 23 bn. Among these loans – loans by 1.3 billion issued by Bank "St. Michael". Most Bank loans, he does not return for two years. Time serviced by only 0.1% (excluding accrued but not paid income of more than 3 months).
The Chairman of the Board "Michael" was arrested in August on charges of embezzlement 2.3 billion hryvnia Bank. In the SBU said that the suspect was headed by a commercial entity created by the top management of the Bank to attract funds of individuals in "attractive" condition. The money the criminals sent to the lending on their business projects. Accounts of physical persons opened in the Bank "Michael". Therefore, after the elimination of financial losses of depositors should be compensated with the Deposit guarantee Fund of individuals.
Comments
comments