Experts: the Arrival of Joe Biden to Ukraine for the Ukrainian authorities about the partnership the U.S. and Burisma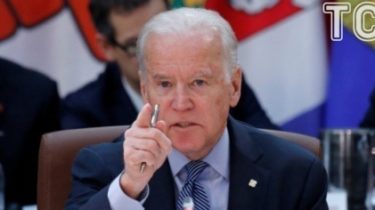 Experts: the Arrival of Joe Biden to Ukraine for the Ukrainian authorities about the partnership the U.S. and Burisma
© Reuters
Ended before the "farewell" visit of Joe Biden as Vice-President of the USA to Ukraine has confirmed that the us administration and big business see as its energy partner in the group Burisma Ukraine Mykola Zlochevsky.
At a meeting with President Petro Poroshenko, Joe Biden said that one of the key issues for Ukraine today is to get rid of dependence on Russian gas. We will remind, the son of Joe Biden – hunter Biden – since 2014 member of the Board of Directors of the largest private gas production company in Ukraine, Burisma Group. According to experts, an important aspect of the last tour, Biden was to outline the future prospects of the business of his son in Ukraine and establish relations between Ukraine and the new U.S. administration. This broadcast channel 112, said the Deputy of the Verkhovna Rada of Ukraine Pavlo rizanenko. According to him, Biden is personally interested in the case against Burisma Group was closed. "A personal interest in Ukraine regarding the work of this company. I admit that, indeed, Mr. Biden have a vested interest in this visit and previous visits," said Rizanenko. > >
> Interesting that the date of arrival of Joe Biden was finalized only after the official statement of the General Prosecutor to close all Affairs at Burisma Group and Mykola Zlochevsky, and the recognition of the verdicts of British courts. Last week Burisma in the official release confirmed that all cases are closed after the payment in the budget of tax payments. Over the past two years, the company paid to the state Treasury nearly 6 billion UAH. Emphasizing support for a "positive solution" for the Group Burisma, Biden finally arrived for the last tour in Ukraine as Vice President of the United States. The American side did not hide that he considers unacceptable procrastination Affairs at Burisma and Zlochevskiy of Ukraine, after numerous decisions of international courts. As you know, the American lawyer of the owner of Burisma and Zlochevsky is a former Deputy attorney General of the United States John Buretta. > > "For the United States and the Obama administration Ukraine remains a key link in the security system of Europe, and they tied his personal actions with a success story of Ukraine and have personal emotional responsibility. Therefore, the United States gave to understand that will work with those companies that they reputation are clear and transparent. Burisma and Zlochevsky, unlike the other participants of the energy market, three years in the international courts to prove his innocence and openness to the budget of Ukraine. Not by chance in Burisma working son of Joe Biden hunter," – said the publication source in the presidential Administration. For the Ukrainian side visit important not only from the point of view of continuity of the transfer of power in Washington, but the prospect for the future. It is not excluded that Joe Biden will take part in the next presidential race, which will take place in 2020.
Comments
comments