Natural phenomenon: rescuers found out why Kiev was enveloped in smog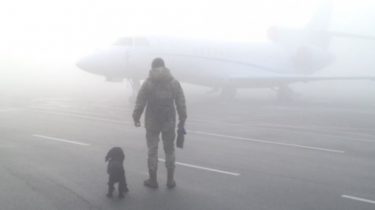 Natural phenomenon: rescuers found out why Kiev was enveloped in smog
© Airport "Kyiv" (Zhulyany)
In gschs threw the fire as his probable cause.
During the day in the city of Kiev and Kiev region there were no fires, which could result in a haze.
About it on air of TSN. Ranok said Svetlana Vodolaga, head of the press service gschs in Kiev.
"A day in the capital, there were 14 fires. If you compare with the previous days is an insignificant amount," he assured her.
Most likely, the haze is the result of a natural phenomenon: when the gases due to the lack of wind and high humidity simply can not breathe, rescuers explained.
Kiev suffocating from the smoke: where did the smelly smog
TSN. Wounds
Today, 09:45
Add to favourites
Acrid stinking smoke enveloped the capital. Smog coated all of the areas. The smell of burning enhances the thick fog, so frightened people in social networks the night complaining about the terrible heat. Probably Gaza due to lack of wind just hovered over the capital, because of large-scale fires is not known.
Meanwhile, at the airport "Kiev", said that working normally, but urged passengers to monitor the status of their flights on-line scoreboard.
Comments
comments