"Gazprom" put Ukraine on the account of $ 5.3 billion for the unselected gas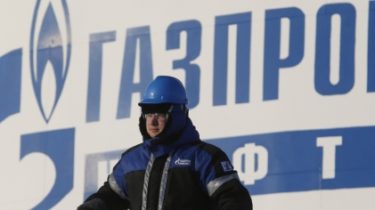 "Gazprom" put Ukraine on the account of $ 5.3 billion for the unselected gas
© Reuters
The Russian company is required to transfer funds within 10 days.
Russian gas monopoly "Gazprom" has demanded from the Ukrainian "Naftogaz" of $ 5.3 billion for the unselected last year gas.
About it reports RBC.
Account for payment of gas, unselected in 2-4 quarter of 2016, according to the rule of "take or pay". The contract of purchase and sale of natural gas, the Ukrainian company shall annually pay a minimum annual amount, the newspaper notes.
"The year has ended, that bill," – said the press-Secretary of head "Gazprom" Alexey Miller Sergey Kupriyanov.
See also: In "Naftogaz" expects provocations from "Gazprom" from-for strong frosts
According to him, to ensure uninterrupted transit of gas through territory of Ukraine as from 1 October 2015 to 31 March 2016, a Protocol was signed between Ministry of energy of Ukraine, the Ministry of energy and the European Commission and corresponding Supplement No. 35 to the contract for the supply of gas between "Gazprom" and "Naftogaz". The agreement was reached in winter 2016, based on the need to create conditions for the uninterrupted transit of Russian gas to Europe, Kupriyanov said.
The reaction of "Naftogaz" in response to the invoice has not yet been reported, said the press Secretary of the head of "Gazprom". The representative of "Naftogaz" to a request to RBC have not yet responded.
We will remind, the Stockholm arbitration court considers the claim "Naftogaz of Ukraine" to Russian "Gazprom". The Ukrainian side is trying to seek revision of tariff for transporting gas through the gas transportation system of Europe.
The Chairman of the Board "Naftogaz Ukraine" Andrew KOBOLEV said earlier that if you lose in arbitration to "Gazprom" under the contract of purchase and sale of gas the amount of 38 billion, which requires a Russian company, will be unaffordable for "Naftogaz".
Comments
comments